Knitted Wire Mesh Mist Eliminator
We supply baffled mist eliminator, vane type mist eliminator and chevron type mist removing filter. This wire netting separation device is used throughout all kinds of process industries, to remove liquid droplets from gas and/or vapor streams. The most commonly used type is vane type mist eliminator with no moving parts and requires a little (if any) or no maintenance. Supplied in a wide range of corrugated knit wire mesh materials, styles, sizes and shapes.
Designs and Installation

Mist Eliminators or demisters are made slightly oversized and are to be compressed at their rim surface when installed, to fit snugly into the vessel. Each mist eliminator of knitted wire mesh is manufactured to suit the dimensions of the vessel or housing into which it will be installed.
The ss mesh mist eliminators can be supplied with rigid support grids, which allow direct installation onto appropriate supports such as beams and rings within the vessel. Sectional installation allows ease of handling and access through vesse.

SS 304 mesh mist eliminator used to separate liquid drop with diameter of more than 3-5 µm in the separation tower.

Round pad design stainless steel baffled mist eliminator with weight capacity of 128 Kg/m3, specific surface area of 403.5 m2/m3 and porosity of 0.9839.
Stainless Steel Mesh Mist Eliminators Vane Type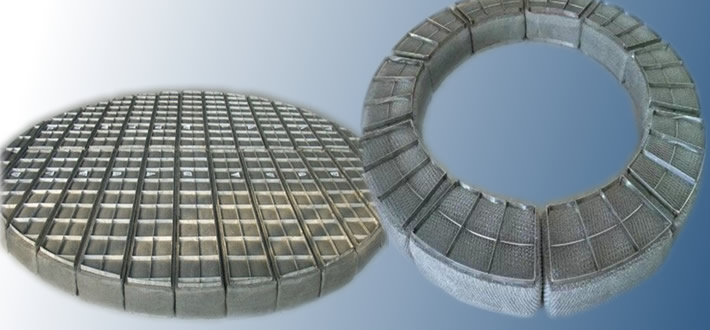 The mist eliminator can be supplied in the shape of round pads or square pads. It has the features of acid and alkaline resistance and corrosion resistance. Compared with galvanized steel eliminators, stainless steel mist eliminator filter pad is not easy to get rusty, suitable for chemical and harsh working conditions.
Stainless Material: SUS302,304,304 L, 316,316 L, 317
Specifications are as follows:
Models:40-100 60-150 ,140-400
Common diameter :0.20-0.45 mm
High efficient vane type mist eliminators:
Models: 60-100, 80-150, 200-400, 80-100, 90-150
Weight capacity: 128 Kg/m3
Specific surface area: 403.5m2/m3
Porosity : 0.9839
Benefits:
Higher separation efficiency, increased capacity, reducing the loss of valuable chemicals, preventing (air) pollution and other features.
Application:
Knit wire mesh screen mist eliminators are used for towers, absorption tower, separation tank, gas separation device, compression absorption tanks, evaporators, separation tower, distillation towers. It is widely used in the chemical, petroleum, medical, light, metallurgy and environmental protection industries.
Used as:
High efficiency wave type york 431 pad mist eliminator for filter;
Vapor-liquid mist eliminating mesh for vessels ;
Baffled Shielding metal wire mesh filter;
PP Mist Wire Mesh Eliminator Demister Pad.
Filter Media - Mist Eliminator Knitted Wire Mesh Fabrics Applied
Material: Metal, stainless steel wire, copper wire, G.I. wire (Galvanized Iron Wire)
Specifications:
Shape: Hole, Square
Thickness: 100mm and 150mm
Length: 300mm- 6400mm
Width: 700-4600mm
Advantage:
Increasing throughput
Downsizing new vessels
Improving product purity
Cutting operating costs
Reducing environmental pollution
Reducing downstream corrosion
Increasing recovery of valuable liquids
Also supply:
Non-metal materials including polyester, PP, ptfe and etc.