Galvanised Steel Flat Wire
We supply various flat wire for industrial processing of knit mesh, scourers, stitching wire, tie wire and binding wire. Materials cover mild steel galvanised, zinc plated, copper wire, stainless steel of 304, 430, 302, 316, etc.

0.22 mm Galvanized Iron Flat Wire for Knitting Mesh Tapes
0.22mm galvanized wire is used for the manufacture of knitted mesh scourers. The wire is smooth, white and shiny. In 15 kgs spools.

Flat Stitching Wire

Gauges:
SWG #18: width 1.83+/-0.02mm,thickness 0.71+/-0.02mm
SWG #17: width 1.95+/-0.02mm,thickness 0.75+/-0.02mm
SWG #16: width 2.15+/-0.02mm,thickness 0.80+/-0.02mm


Galvanized coil wire for stitching.

Hot Dipped Galvanised Steel Wire for Stitching and Stapling


8mm Diameter carton binding galvanized flat wire for Garden Binding Paddle Wire
High Tensile Galvanized Steel Oval Wire for Binding and Packaging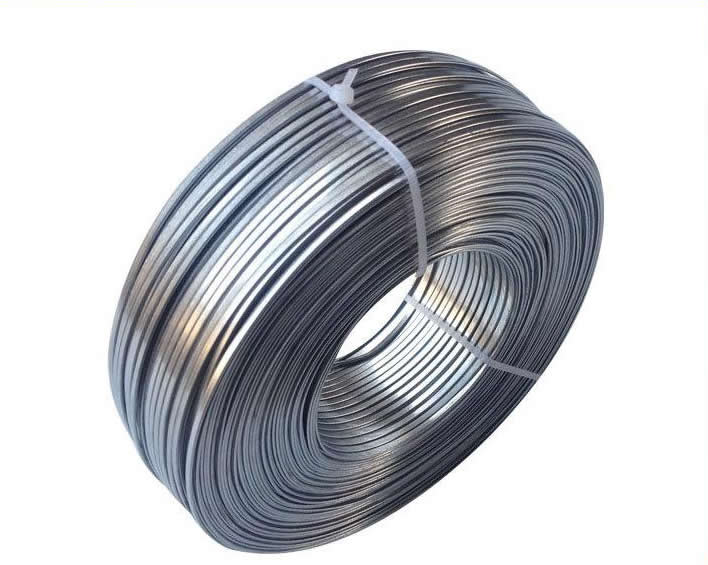 Basic material for oval wire: Low carbon steel wire rod, galvanized steel wire and high carbon steel wire
Main Sizes: 2.4*3.0mm 2.2*2.7mm 2.35*2.35m. Other sizes custom made.
Processing: Oval wire is made from high quality high tensile wire by redrawing equipment, mainly used in South America and other countries for farms and fencing.
Steel Material: 45#,55# and 65# high carbon steel
Tensile Strength: 600 KGF-1400KGF
Common Sizes:
| | | | |
| --- | --- | --- | --- |
| Wire Gauge Size | SWG(mm) | BWG(mm) | J. de p |
| 12 | 2.64 | 2.77 | 1.8 |
| 13 | 2.34 | 2.41 | 2.0 |
| 14 | 2.03 | 2.11 | 2.2 |
| 15 | 1.83 | 1.83 | 2.4 |
| 16 | 1.63 | 1.65 | 2.7 |
| 17 | 1.42 | 1.47 | 3.0 |
| 18 | 1.22 | 1.25 | 3.4 |
| 19 | 1.02 | 1.07 | 3.9 |
| 20 | 0.91 | 0.89 | 4.4 |
| 21 | 0.81 | 0.813 | 4.9 |
| 22 | 0.710 | 0.711 | 5.4 |
| 23 | 0.6096 | 0.6347 | 5.9 |